People escape the cities up and down the eastern seaboard every summer to enjoy a treasured and relaxing Adirondacks getaway. If you've never been to this area, this summer is the perfect chance to discover what makes an Adirondacks getaway worth returning to year after year. Our boutique hotel, located just outside Chestertown, NY, and across the street from Friends Lake Inn, just so happens to be one of the most treasured Adirondacks getaways.
Our Upstate New York hotel is surrounded by the pristine natural beauty of the Adirondacks, with plenty of forested nature trails, beautiful gardens, and a pond to enjoy during your stay. A short drive away, you'll find some top things to do in the Adirondacks, including Lake George and the popular Gore Mountain Ski Area.
Though there are so many incredible things to do in the Adirondacks, many people spend their Adirondacks getaway doing absolutely nothing but unplugging and relaxing in a way you can't do at home. Our boutique hotel is the perfect place to do just that. We offer various lodging options and amenities, and we host one of the best restaurants in the Adirondacks right here on our property.
While staying at our Upstate New York hotel, everything you need is at your fingertips. No wonder so many consider it the ideal escape into relaxation! Enjoy the best of an Adirondacks getaway, and book your stay with us today!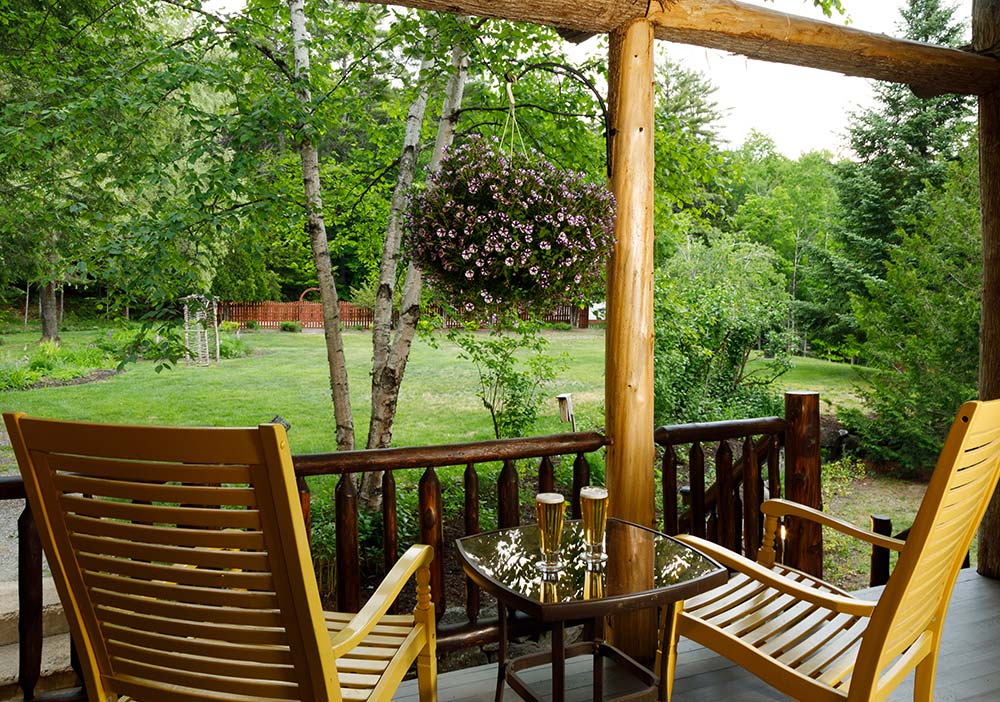 Discover the Best Adirondacks Getaway
There are a few essential considerations when planning an Adirondacks getaway, but chief among them is where to stay. You won't find anywhere else that offers the same upscale range of accommodations and amenities, including a delicious breakfast and the opportunity to dine at one of the best Upstate New York restaurants as our Upstate New York hotel.
Friends Lake Inn is a boutique hotel in Upstate New York that prides itself on excellent service. We are surrounded by the stunning natural beauty of the Adirondacks, one of the many things that make us such a great place for an Adirondacks getaway. If you are looking for the most picturesque and tranquil retreat in the Adirondack area, you have found it!
The incredible accommodations we offer are unmatched in the Adirondack area. All hotel rooms are split into three categories, each of which charmingly reflects the surrounding area's natural beauty. Choose from the Lake Rooms, Tree Rooms, Bird Rooms, and our secluded cabin with a private outdoor firepit and full kitchen. The lodging you choose may include amenities such as a fireplace to get cozy next to, a balcony/porch to unwind at the end of a day, a window seat to admire the lovely view, and much more to help you truly relax.
While enjoying your Adirondacks getaway, it's easy to slip into nature. We offer private nature trails surrounding our Inn, not to mention gorgeous grounds with a perennial garden, spring-fed pond, gentle waterfall, stream, and a beautiful outdoor fireplace perfect for making s'mores. You're free to venture further afield to enjoy all the best things to do in the Adirondacks during your Adirondacks getaway, but there's no need to.
Whether you've opted to explore the surrounding area or not, you won't have to venture far for dinner. Our onsite dining options make our Inn the best Adirondacks getaway because you don't have to get in the car and leave to enjoy a fantastic meal. In our Main Dining Room, you'll enjoy an intimate dining experience with the farm-to-fork menu. As you dine, take the time to admire the exquisite historic architectural details like an 1800s fireplace and the original roof above, plus beautiful artistic frescoes on the wall.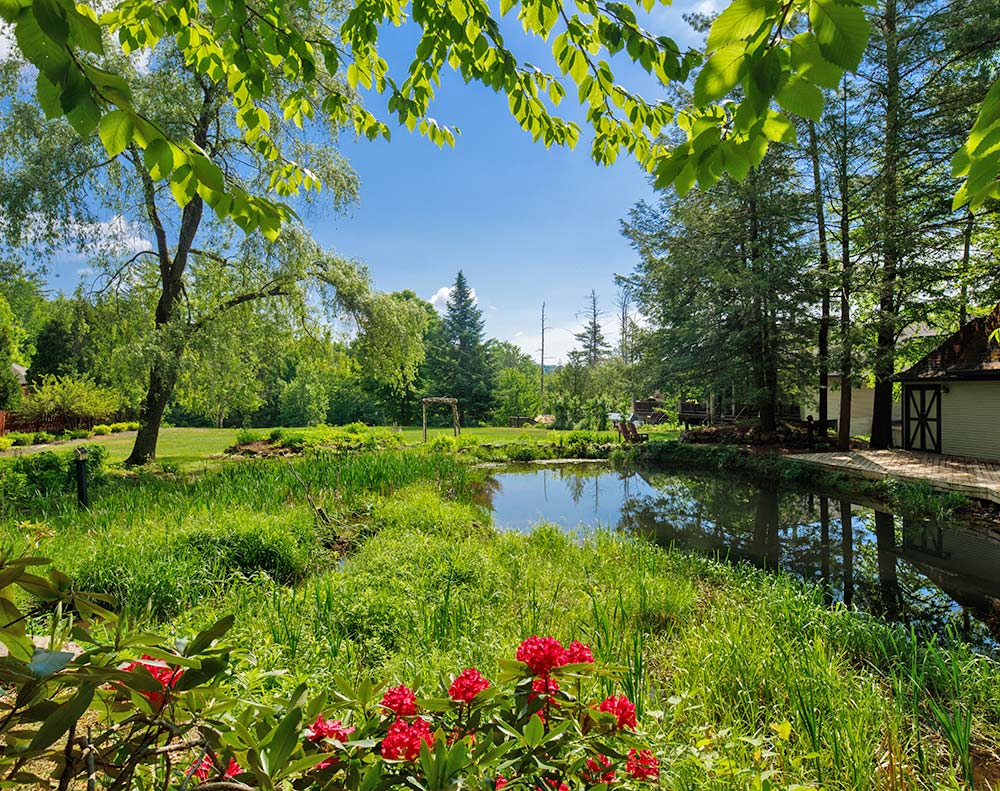 Things to do in the Adirondacks This Summer
There's no singular way to enjoy an Adirondacks getaway – what you do while here is entirely up to you. There are plenty of great things to do right here at our property (and plenty not to do, too) – and for the adventurous souls among us, there are also plenty of great things to do in the Adirondacks. It's no wonder people look forward to their Adirondacks getaway every year!
You're free to lounge in your room with your favorite summer read, curl up and watch Netflix, sip a glass of wine on your private porch, or find your flow in our new Flow Tranquility Room. But if you want to pack your Adirondacks getaway with adventure, there are plenty of things for you to do in the Adirondacks. Here are a few of our favorites:
Choose from one of our favorite hikes in the Adirondacks, and enjoy challenging yourself on the surrounding peaks.
Head to nearby Gore Mountain Ski Resort, where you'll find plenty of fun things to do in the Adirondacks in the summer.
Enjoy whitewater rafting, tubing, or ziplining with the guides at the Adirondack Adventure Center.
For something just as fun but a bit less adventure-packed, head to Revolution Rail. It's one of the more unique things to do in the Adirondacks and doesn't require nearly as much effort as hiking and rafting.
Visit Natural Stone Bridge & Caves, home to the northeast's largest natural marble cave entrance.
Enjoy a beautiful change in scenery on one of these scenic drives.
Chasing waterfalls is one of the most magical things to do in the Adirondacks – you may even find a great place to cool off when things really get hot this summer!
Spend therapeutic time among the trees on our hotel's private nature trails.
Dine on the delicious flavors of the Adirondacks at our hotel restaurant.
Roast marshmallows and make s'mores for some relaxing, old-fashioned fun at our beautiful firepit.
Even with so many great things to do in the Adirondacks, there's still nothing better than staying at Friends Lake Inn. We're the only boutique hotel in Upstate New York that offers a comprehensive Adirondacks experience – comfortable accommodations, upscale farm-to-table dining, and private access to nature trails (plus beautiful gardens, ponds, and more).
Is it any wonder why Friends Lake Inn is such a popular Adirondacks getaway? Book your room today!