Rail biking has been a growing phenomenon around the country, and now you can enjoy it right here in the Adirondacks with Revolution Rail. Rail riding with Revolution Rail is a wonderful and low-stress way to get out and enjoy the stunning natural beauty of the Adirondacks, and you'll probably enjoy a healthy dose of laughter or two along the way. After all, a visit to the Adirondacks is about – plenty of rest and relaxation, stunning natural beauty and carving out time and experiences that allow you to reconnect with your significant other.
Whether you're just looking for a place to escape for some relaxing time out of the city or are looking for an adventure-filled getaway, the Adirondacks is the perfect place to go. There's no better place to stay in the Adirondacks than our upscale hotel, situated just 20 minutes west of Lake George and surrounded by the quiet, respondent natural beauty the Adirondacks are known for. In addition to offering the best accommodations in the area, we're also your go-to destination for dinner at our farm-to-table restaurant.
It's the comprehensive Adirondacks experience you've been looking for, and no one does it better.  Book your room at our exceptional Upstate New York Getaway today!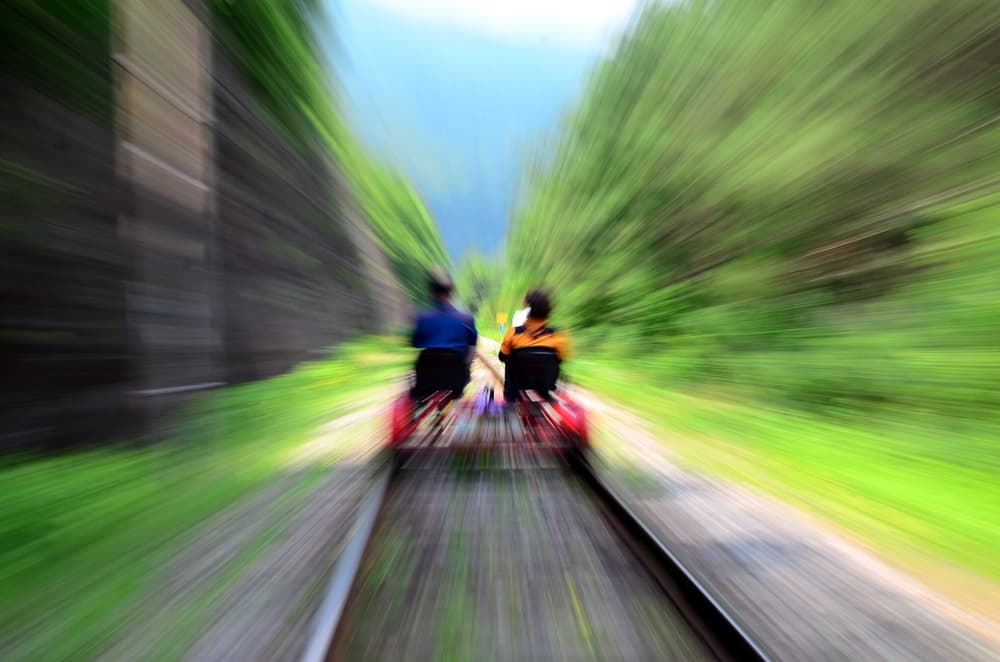 Ride the Rails with Revolution Rail
If you're looking for low-impact and easy adventures in the Adirondacks that won't leave you sweaty and exhausted at the end of the day, it's time you get outside with Revolution Rail.  You'll still enjoy some of the best scenery in the Adirondacks, but you'll do it in a far more enjoyable way.  It's also nice to see a new use for these historic train tracks!
Revolution Rail has two locations in Upstate New York. One of them is about 20 minutes northwest of our boutique hotel near the Gore Mountain Ski Area, and the other is in Hadley, which is around 30 minutes south of us. Regardless of where you ride, you'll find that Revolution Rail provides you with unprecedented access to some of the Adirondacks' most remote and beautiful parts.
At the Revolution Rail location near Gore Mountain, you'll pedal your way through verdant forests and along the scenic banks of the Hudson River. You'll cross a stunning Trestle bridge as you travel over the river, where you'll enjoy stunning views of the valley below. The ride near Hadley includes a 500 foot long and 90-foot high trestle bridge, which offers gorgeous views over the Hudson and Sacandaga Rivers.
You have your choice between a tandem bike for two or a quad bike for four – so if you're in the area with friends, you might want to all consider hopping on this adventure for a considerable amount of fun. Though it looks easy, the ride with Revolution Rail is still a one-of-a-kind journey that will leave you with fun and lasting memories of your time in the Adirondacks. Regardless of what you choose, you can expect mostly flat terrain suitable for a broad range of ages and abilities. You can expect the journey to take about two hours.
Before you leave for your trip with Revolution Rail, ask our staff to pack you a picnic lunch. You'll be happy you have it once your ride is over – and it's a great way to continue soaking up the scenery in this beautiful part of the state.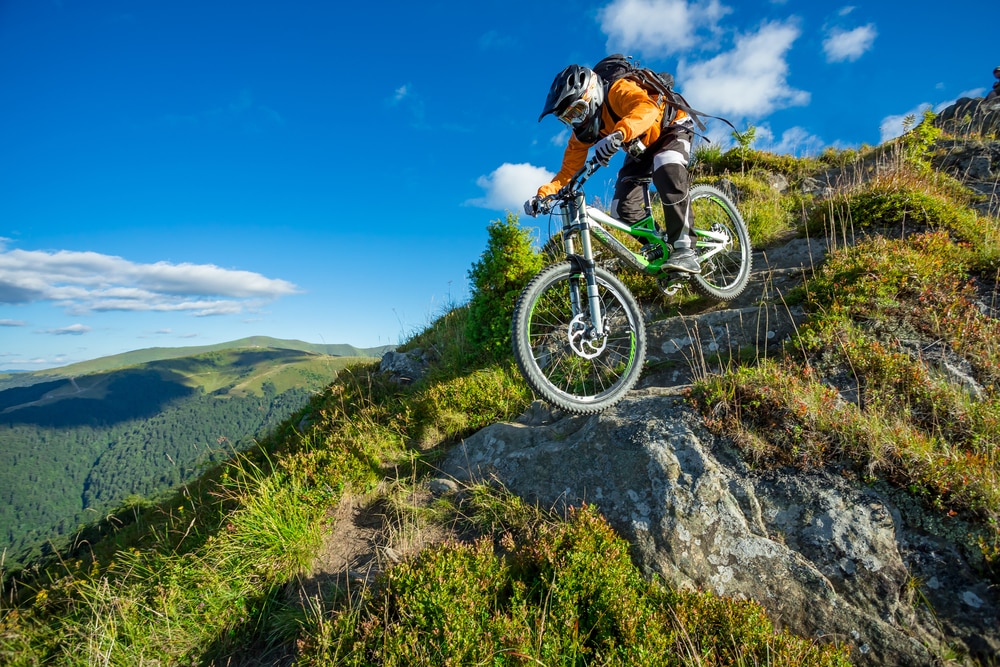 Mountain Biking in the Adirondacks
As fun as riding the rails with Revolution Rail might be, we recognize there might be some of you out there craving a bit more adventure. Perhaps a little mountain biking through the stunning Adirondacks is more your speed? If so, there are plenty of great mountain biking trails nearby, including those at the nearby Gore Mountain Ski Area.
In fact, Gore Mountain also has some of the best mountain biking trails. There's also plenty of hiking all over the mountain and a disc golf course for your enjoyment. While you're there, we recommend you take a scenic Skyride and enjoy breathtaking views of the Adirondacks.
Gore Mountain isn't the only great place for mountain biking in the area. Though it's a bit farther away, Audible Chasm is home to some really great mountain biking trails as well. But, just as there are many great hiking trails in the Adirondacks, mountain biking trails are plentiful. In fact, some would say that the Adirondacks are the best-kept secret in the world of mountain biking!
You can find trails with up to 3,000 feet of elevation drop for a truly exhilarating adventure depending on where you go. We'd love to help you plan your adventures next time you visit our Upstate New York hotel.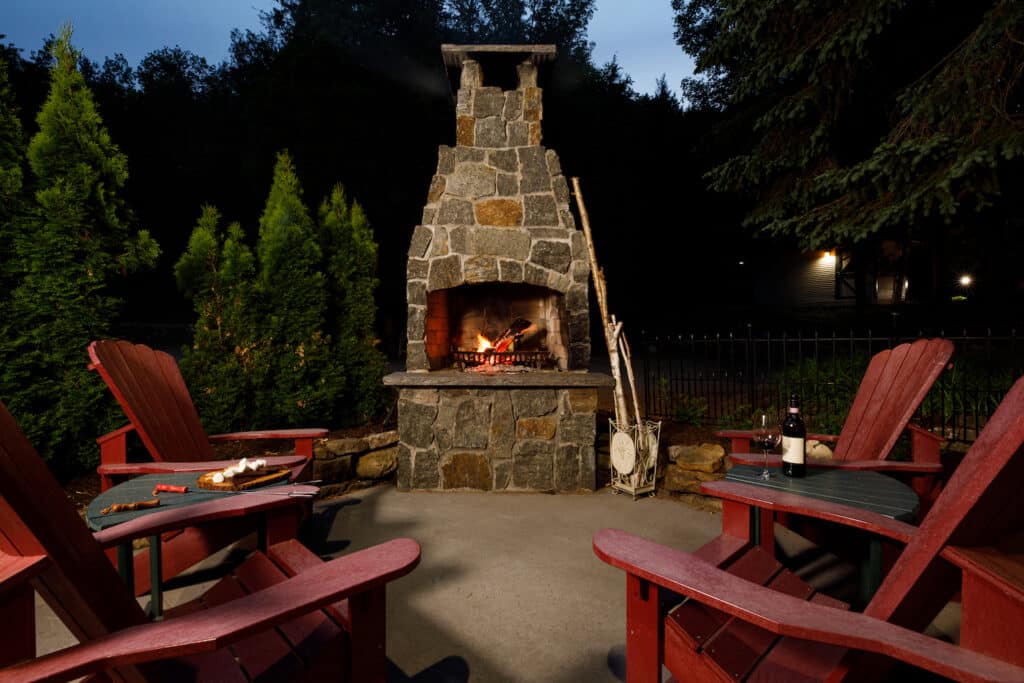 The Best Place to stay in Upstate New York
Whatever your day has in store for you, there's nothing quite like returning to the comfort and ambiance of our Upstate New York Hotel.  Friends Lake Inn offers the only truly comprehensive Adirondacks experience, with upscale lodging, exquisite dining, and private access to surrounding nature trails.
Unwind with a cocktail at our Birch Bistro, and then join us in our main Adirondacks Dining Room for a farm-to-table meal that features the freshest local ingredients possible.  It's a meal you won't soon forget.
In the evenings, unwind around our fire pit, roasting homemade s'mores, and enjoy the peaceful ambiance of our special retreat before eventually retiring to the comfortable oasis of your guest room. We really do offer it all, and we'd love to see you this summer.  Book your room at our Upstate New York boutique hotel today!