If you're looking for a truly stunning getaway this fall, look no further than our hotel in Upstate New York's Adirondacks region.  It's a stunning place to relax, unwind, and see some of the best Adirondacks fall foliage.  Whether relaxing in the beautiful outdoor spaces on our property, taking a walk on the private nature trails nearby, or otherwise hiking and adventuring beyond our hotel, you'll find an unprecedented display of Adirondacks fall foliage nearby.
Visiting upstate New York in the fall is a rewarding experience, but to make your stay something truly extraordinary, you'll need remarkable accommodations. That's exactly what you'll find at our upscale hotel, located across the street from Friends Lake and in the heart of the stunning Adirondack mountains.
Not only will you find unmatched comfort in our guest rooms and exceptional hospitality, but we also have an onsite restaurant that offers delectable farm-to-table dining. There's a reason that Friends Lake Inn has a long-standing reputation for being the #1 destination for upstate New York getaways! This fall, come see it for yourself.  Book a room at our hotel in Upstate New York today!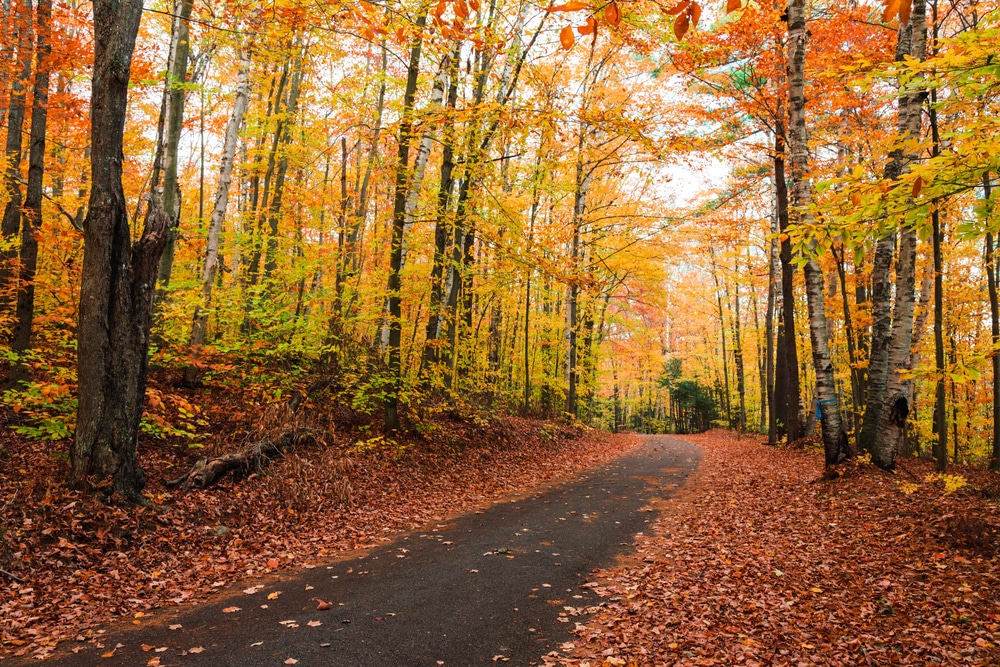 8 Ways to Enjoy Adirondacks Fall Foliage Near Us
When it comes to seeing Adirondacks fall foliage, there really are endless options.  You can enjoy the stunning seasonal display of colors right here in the gardens and trees surrounding our hotel or on the private nature trails nearby.  Or you can opt to leave the cozy confines of our charming hotel and head out for a scenic drive, hike, or other adventure to soak in all of the stunning Adirondacks fall foliage.
The Adirondacks actually boast one of the longest seasons for fall foliage in the country. The mountains begin their colorful transformation in September and stick around through October, though the peak season near our hotel tends to be from early-mid October. Whatever it is you choose to do, we know you'll enjoy this time of transition away from the city and surrounded by nature.  Here are our favorite ways to enjoy the colorful Adirondacks fall foliage nearby:
Hiking is arguably one of the best ways to experience the Adirondacks fall foliage. Here are some of our favorite hikes in the area, each of which will reward you with spectacular views of the Adirondacks fall foliage below. For even more great fall hikes in the Adirondacks, consider some of those mentioned here.
What is fall without scenic drives on windy, mountain roads? Luckily this is the perfect activity to enjoy in upstate New York, and there are plenty of places to experience the stunning beauty of Adirondacks fall foliage along the way. There are plenty to choose from in Upstate New York, and here is a guide to some of the best fall drives.
Go apple picking, and enjoy the Adirondacks fall foliage in the orchards as you enjoy this quintessential fall experience. Upstate New York is actually home to quite a few apple orchards – we'd be happy to give you a few recommendations while here!
Hot Air Ballooning is another great way to gain a birds-eye view of the stunning the best Adirondacks fall foliage.
Wine (and cider!) tasting may not be the most obvious way to enjoy fall foliage in the Adirondacks, but as the season progresses and farmers begin their annual harvest, you'll enjoy an explosion of color at local vineyards, and some palate-pleasing beverages as well.
Enjoy the explosion of color while biking with Revolution Rail Co., a truly unique way to experience the natural beauty of the area.
About an hour north of us is High Falls Gorge, which is an epic place to take in the beauty of fall foliage in the Adirondacks. It's a great day trip, and an excellent place to snap Instagram-worthy photos. The gorge is surrounded by lush, colorful forests, which makes the water tumbling over the falls here an even more spectacular sight to behold.
From whitewater rafting in the summer to treetop adventures in the fall, there's no shortage of fun to be had at the Adirondack Adventure Center.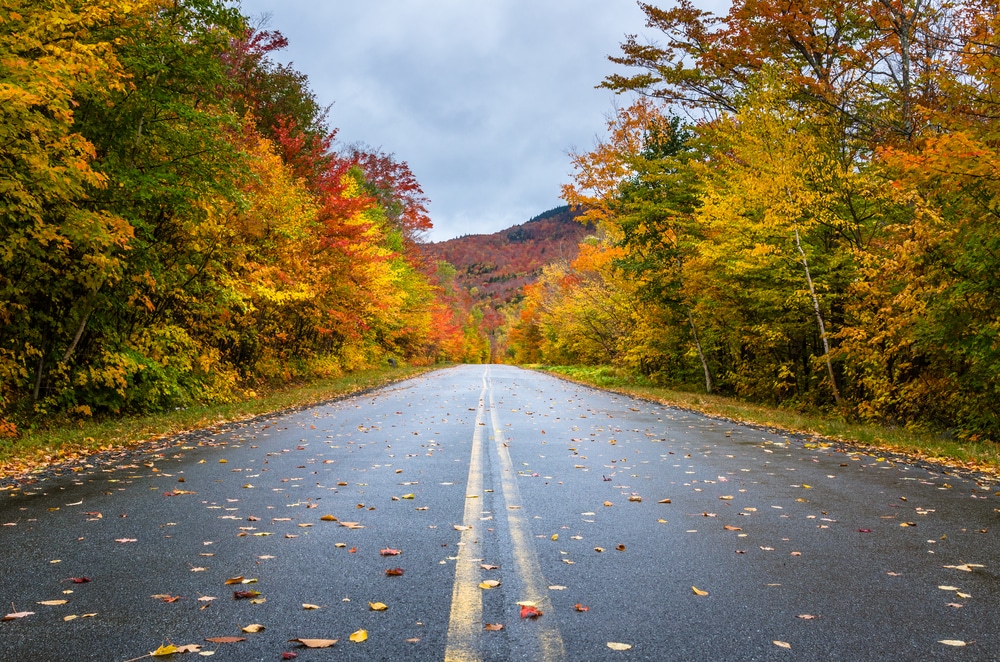 The Best Place for Upstate New York Getaways
Whether you're here for Adirondacks fall foliage or just looking for a cozy place to get away this fall, you can't beat some time at Friends Lake Inn. There's a reason we're considered the #1 destination for Upstate New York getaways!  Charming accommodations, private access to nature, and exquisite dining are all right here. A few days here is the perfect antidote to busy schedules and loud city noise.
We offer a broad range of guest rooms to choose from, all uniquely decorated and outfitted with high-end amenities.  We even have a secluded cabin for those more intimate and romantic getaways you crave. What are you waiting for? Don't miss your chance to enjoy fall in the Adirondacks this year.  Book your room at our Upstate New York hotel today!