If you're looking for a romantic getaway or a relaxing weekend for two – Lake George is the place to be.
Located at the heart of Adirondacks, the Lake George area is home to spectacular scenery and breathtaking vistas. From relaxing walks through the picturesque town, to exciting activities like biking, skiing, and snowmobiling, the area offers visitors much to do in the way of both excitement, and relaxation. It is an idyllic picturesque mountain retreat that offers plenty of year round activities and events that make it a favorite destination for many.
At Friends Lake Inn, we are pleased to offer our guests a number of exclusive romantic packages, ideal for couples who are looking for a relaxing and enjoyable escape to the Adirondacks. Our historic Adirondack hotel is the ideal setting for a romantic honeymoon –or just a quick overnight getaway.
Adirondacks Romance Package
Looking for a romantic escape? Our Adirondacks Romance Package includes everything you need for a romantic getaway. This package includes a two-night stay in one of our romantic guest rooms with a Jacuzzi. It also includes a romantic three-course candlelit dinner for two each evening, a picnic lunch, a full country breakfast in the mornings, and more! It's the perfect way to unwind, and enjoy a romantic escape in Upstate New York.
Free Ice Breaker Rafting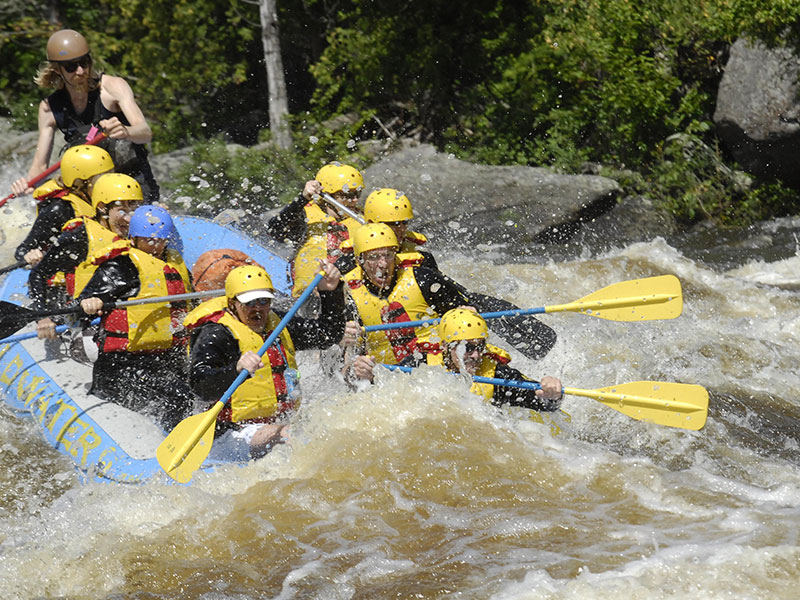 If you're looking for something a bit more adventurous, why not try our Free Ice Breaker Rafting Package? Join us for the first rafting trip of the season as we raft down the Hudson River Gorge in a trip that's full of unforgettable excitement. Experience a full day of guided class III – IV whitewater rafting. Stay two nights in a romantic guest room, and raft free. Book early since space is limited. Ice Breaker Rafting is available Saturday and Sunday starting April 11 – April 26.
Massage Package
The ideal package if you are in need of some rest and relaxation, the Massage Package features a one-night stay in a romantic guest room –with a Jacuzzi. Upon arrival, you will find a bath basket for two in your room. You will also be treated to a romantic three-course candlelit dinner for two, as well as our signature turndown service. Also includes two one-hour massages, breakfast in bed the next morning, and more!
Special Occasion Package
 If you're looking for a night away, our Special Occasion Package is the perfect break. A great way to celebrate any occasion, this package includes one night in one of our romantic guest rooms and a three-course candlelight dinner for two. Upon arrival, you'll find a dozen long stem roses in your room. It also includes our signature turndown service with sparkling wine and chocolate covered strawberries. When you leave, we will send you with a picnic lunch and a bottle of house wine.
Events
Why not plan a romantic getaway around an event? Lake George has plenty of exciting events that make it an especially in-demand location at certain times of the year.
The Lake George Oktoberfest is an ideal fun-filled autumn getaway. If an autumn escape filled with food, fun, dancing, and beer from local brewing companies sounds like your idea of a good time, be sure to plan your trip to Lake George around this event.
As anyone in Lake George can tell you, Americade is an exciting event-filled week. Americade is America's largest motorcycle touring rally, featuring concerts, BBQs, rides, a demo, expos, and more. It's a must-see event for motorcycle enthusiasts.
Lake George Music Festival
The Lake George Music Festival includes a series of open rehearsals, live concerts, and so much more. Designed to bring classical music to the masses, this event is an ideal festival for music lovers.
Be sure to book your room early, especially if you are planning to travel around the time of an upcoming popular event. See more events, activities, and festivities at Lake George.
To learn more about a relaxing New York Romantic Getaways, visit our website and discover how refreshing a stay at Friends Lake Inn can be!