December is the most popular month of the year to get engaged, and with so many holidays and so much festive merriment in the air, it's not a surprise. So, if you find yourself engaged in the coming months and are ready to dive into planning, it won't take you long to see that Friends Lake Inn is the best place to Elope in NY. Though our hotel is a great place to Elope in NY, it's so much more than that, too.
Friends Lake Inn is located near the charming town of Lake George, New York, in the popular Adirondacks. We're the only hotel in the area to offer upscale accommodations, onsite dining, and private access to nature trails, which you're free to enjoy away from the crowds. It's a delightful place to unwind after your big day while enjoying plenty of downtime and maybe even a little adventure on your honeymoon.
Our hotel offers couples a choice from many venues, and we can accommodate a large range of weddings. So, whether you're looking for a romantic and beautiful place to elope in NY, or whether you want to find a larger venue to accommodate your closest family and friends, Friends Lake Inn is it.  Read more about our incredible wedding venue in Upstate New York and request a tour of our property today.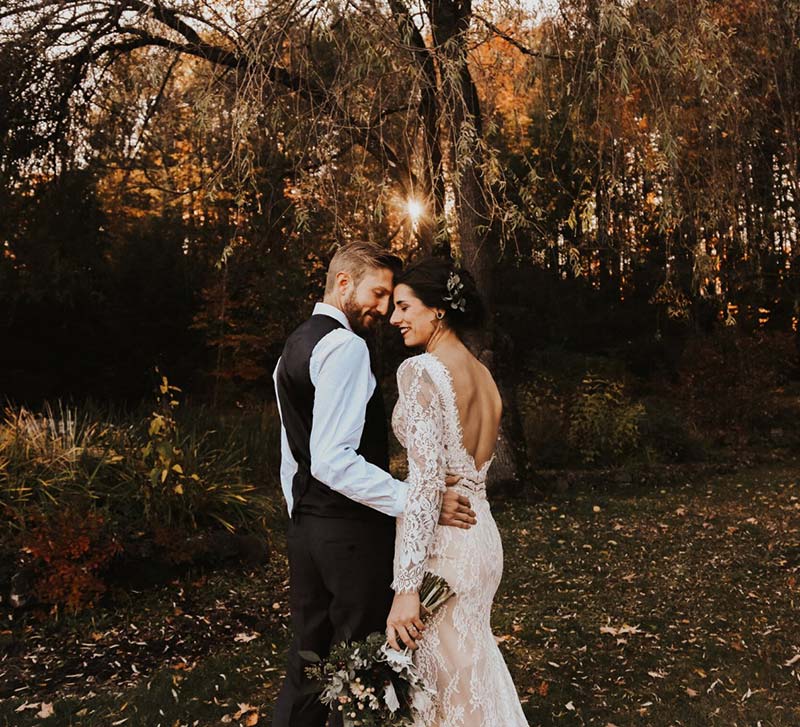 Why We're the Best Place to Elope in NY
When it comes to finding the best place to Elope in NY, you don't have to look further. Friends Lake Inn has consistently been ranked as one of the best wedding venues in Upstate New York, and one look at our picturesque venues will tell you why. Whether you are looking for an intimate place to elope in NY, or whether you'd rather host a small wedding with close friends and family or a wedding celebration with 100 or more people, we'd love nothing more than to help you plan the perfect day.
Our hotel is surrounded by the stunning natural beauty that defines the Adirondacks, but it's away from the large crowds and offers weddings of all sizes a more intimate feel. We offer a range of picturesque locations around our property, too, including our renovated parlor or under a majestic willow tree in our garden, which also features a gentle waterfall, stream, and brook-fed pond.
No matter the season, our Upstate New York wedding venue will set an unforgettable stage for your big day, and our event team will help you make sure everything goes exactly as planned. We offer a range of packages for you to choose from. Whether you're just looking to elope in NY or want to plan a more elaborate celebration, we have a package that will work perfectly for you.
All of our wedding packages include a minimum of one-night lodging in one of our Lake Rooms for the wedding couple, along with an officiant, a bouquet and boutonniere for the wedding couple, a two-course dinner, and a wedding cake. We're also happy to custom design a plan that fits you perfectly. Reach out to our team to start planning your wedding or elopement in Upstate New York today!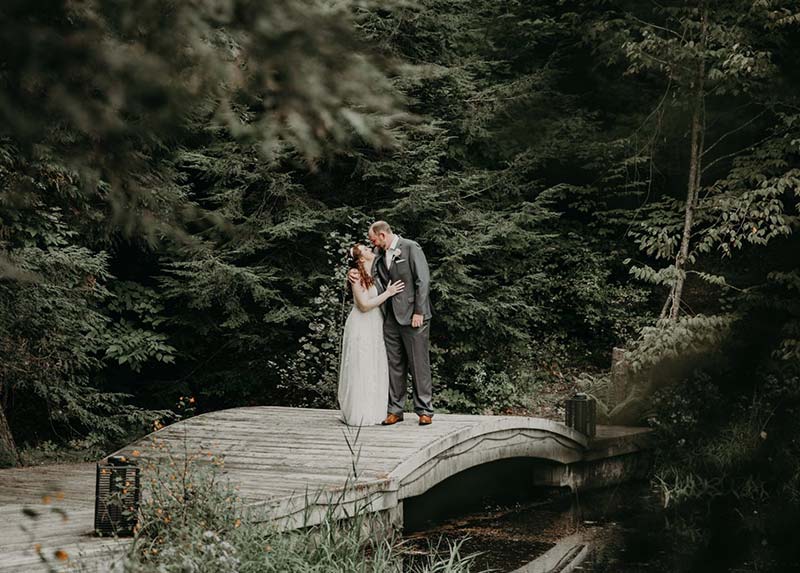 The Most Romantic Upstate New York Hotel
Aside from being one of the best places to elope in NY, our Upstate New York Hotel is also an exceedingly romantic place to spend your honeymoon, not to mention a wonderful place to return to time and time again for anniversaries, birthdays, and other romantic celebrations.  Nothing beats a tranquil, nature-focused getaway, and that's exactly what you'll find at our Upstate New York hotel.
If you plan to Elope in NY, your package will include at least one night in our upsale accommodations – and we hope you stay for more to enjoy a romantic honeymoon in the beautiful Adirondacks! Our hotel is set up to provide you a welcome respite, surrounded by the incredible beauty of the Adirondacks, and with private access to nature trails for those moments when a little fresh air will do you good.
Friends Lake Inn is located in the quaint hamlet of Chestertown, New York, away from the busier and more crowded Lake George. Across the street, you'll find Friends Lake, which is the only privately accessed Lake in the Adirondacks and a beautiful place to soak up a bit of tranquility. We also offer guests a network of private trails, offering you just the right dose of fresh air.
Inside our hotel, you'll find 17 upscale guest rooms, with amenities unmatched in Upstate New York. Choose from the Lake Rooms, Tree Rooms, Bird Rooms, and our secluded cabin with a private outdoor firepit and full kitchen. Each themed room charmingly reflect the natural beauty of the Adirondacks and offers a wonderful range of amenities, including in some a fireplace to get cozy next to, a balcony/porch to unwind at the end of a day, a window seat to admire the lovely view, and much more.
Our onsite dining makes it easy for you to enjoy your honeymoon and other romantic getaways in Upstate New York without the hassle of having to decide where to eat or how to get there. In our main dining room, you'll savor a candlelit meal in an elegant setting, featuring the finest locally sourced cuisine around. The architectural details of this historic room, such as the fireplace from the 1800s, add to the romantic ambiance.