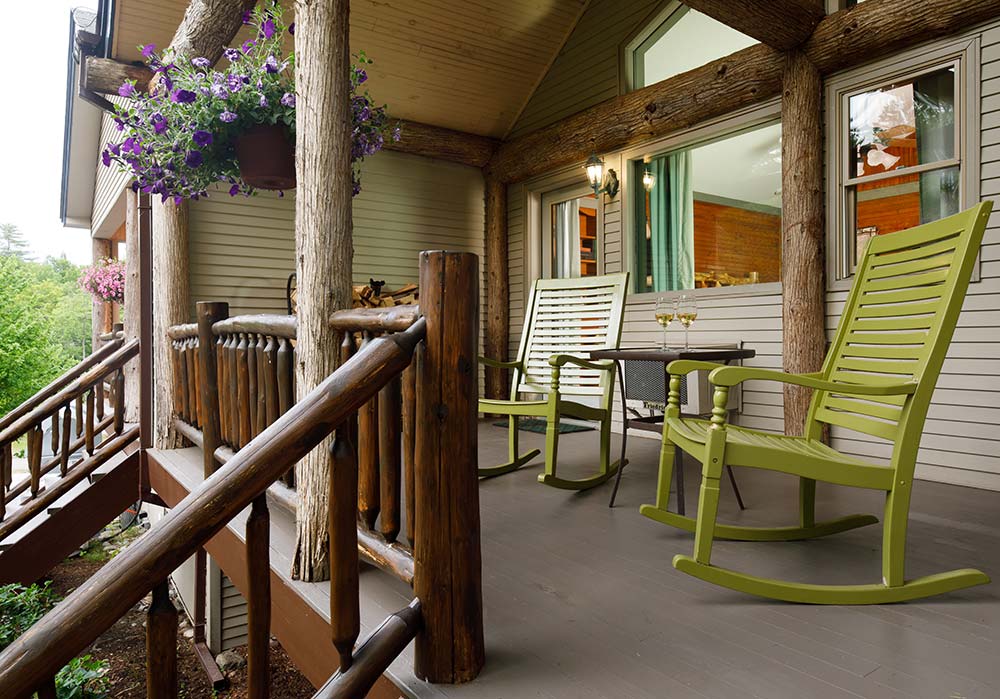 One of the best Adirondacks getaways is our boutique hotel nestled amongst the forest just outside of Chestertown, NY. We are located in close proximity to many world-class destinations, such as Lake George and Gore Mountain. Our upscale accommodations are the perfect place to come back to at the end of a day of exploration. We offer a variety of lodging options and amenities and are particularly suited for your escape to the Adirondacks.
Let our hotel in the Adirondacks be the ultimate getaway for you this season! At Friends Lake Inn your ultimate comfort is our priority. We can help set you up in the best guest room that will suit your needs for the perfect vacation. Our Adirondacks hotel will feel like a private cabin in the mountains surrounded by beauty. This is the ideal escape into relaxation and tranquility. If you are looking for the best place this season to get away from it all in the Adirondacks, book your stay with us today!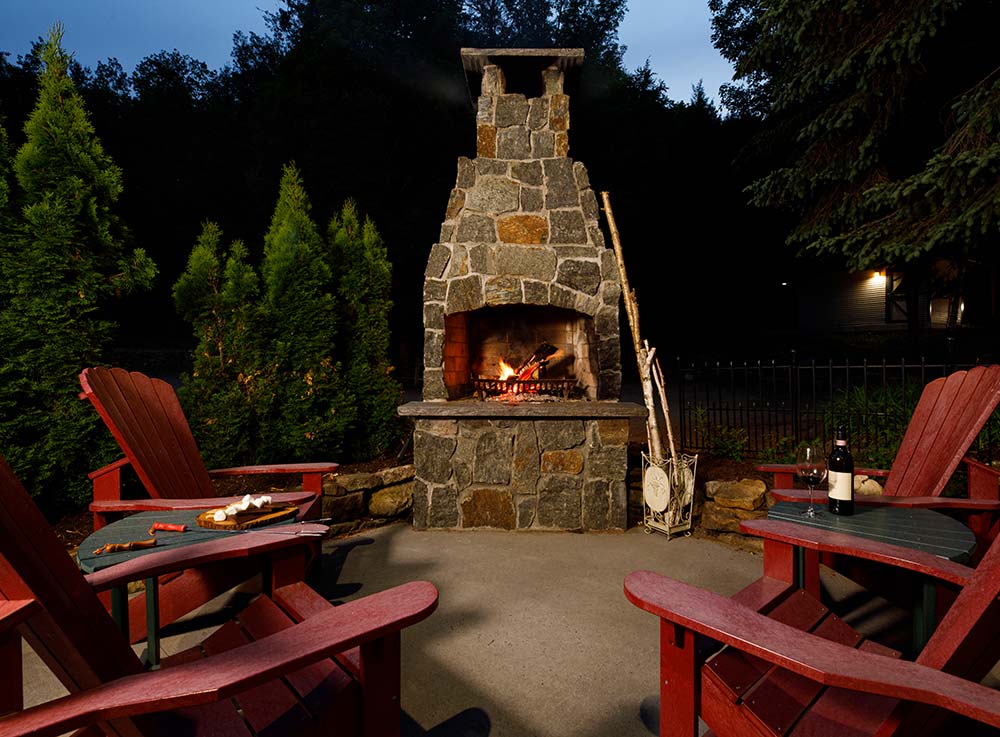 One of the Best Adirondacks Getaways
Just outside the idyllic hamlet of Chestertown sits our boutique hotel surrounded by nature and beauty. If you are looking for the most picturesque and tranquil retreat in the Adirondack area, you have found it! Our beautiful hotel and grounds are the perfect setting for a special occasion like an anniversary or a place to escape to just because you deserve it. You'll find everything you could ever want in a mountain getaway and more at our upscale lodging! Here are 5 great reasons our hotel is one of the best Adirondacks getaways.
The incredible accommodations we offer are unmatched in the Adirondack area. All rooms are split into differently themed rooms that charmingly reflect the natural beauty of the Adirondacks. Each room is unique in decor and amenities offered, making your stay even more memorable and special. Choose from the Lake Rooms, Tree Rooms, Bird Rooms, and our secluded cabin with a private outdoor firepit and full kitchen. The lodging that you choose may include amenities such as a fireplace to get cozy next to, a balcony/porch to unwind at the end of a day, a window seat to admire the lovely view and much more to help you truly relax.
Another reason why our hotel is one of the best Adirondacks getaways is the opportunities to get out and into nature with easy access. A short walk from our hotel is Friends Lake, a quiet and secluded place for a morning or afternoon hike along the shore. Bring a picnic for a longer excursion or get out on the water in a kayak. There is something for everyone to get out and get active in the Chestertown area from an easy-going walk to horseback riding at Circle B Ranch, to skiing at Gore Mountain.
Our onsite dining options make our inn one of the best Adirondacks getaways because you don't have to get in the car and leave to enjoy a fantastic meal. In our Main Dining Room, you'll enjoy an intimate dining experience with the farm to fork menu. At this upscale restaurant, you'll sit amongst exquisite historic architectural details like an 1800s fireplace and the original roof above. If you are feeling more of a casual and relaxing dining experience our Birch Bistro is a great place for a drink and small plates. As a guest, you'll be treated to a made-to-order breakfast in the bright and beautiful Breeze Dining Room.
As one of the best Adirondacks getaways, we offer incredible packages to enhance your stay.  We offer massages, romantic dining, anniversary, honeymoon, and special seasonal packages to make sure your vacation is perfect. Our Adirondacks hotel is a great place to mark and celebrate those special moments in life with an unforgettable stay here. Call us for info on packages you're interested in!
The onsite amenities that are offered at our boutique hotel make us one of the best Adirondacks getaways. Spend a morning or afternoon soaking in the peace in our perennial garden. Relax next to the spring-fed pond, gentle waterfall, and stream. On more chilly evenings there nothing like getting cozy and lounging next to the outdoor fireplace.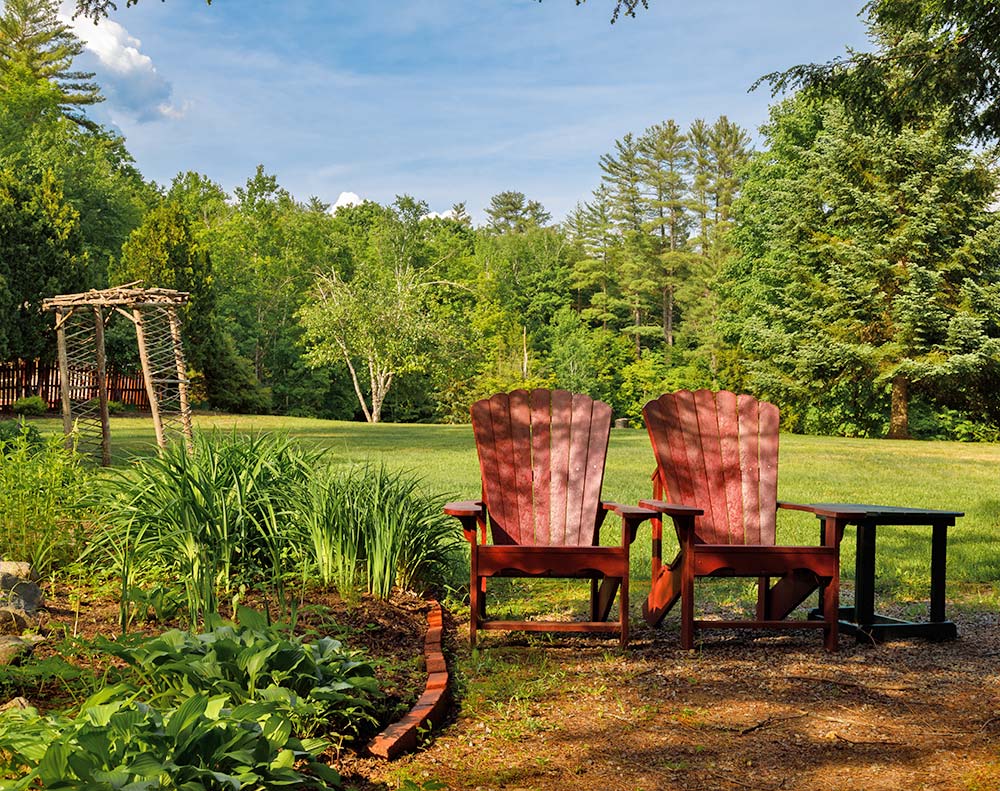 The Best Adirondacks Lodging
Let our upscale experience in upstate New York be the perfect way to slow down and reconnect all while being surrounded by the beauty of nature. Your private room is sure to be the charming, spacious, and cozy accommodations that will suit your needs for an ideal vacation in the Adirondacks. Our true getaway includes elegant onsite dining and access to nature near our lodging. If you are looking to escape to the Adirondacks this season and want the perfect vacation, book your stay with us today!