Winter is a wonderful time of year, especially in the Adirondacks!
There are few sights more spectacular than the beautiful snow-dusted mountains of the Adirondack region. This breathtaking setting makes the perfect backdrop for your midwinter getaway. Winter in the northeast can be truly amazing –with so many things to see and do, you'll truly enjoy your stay in this beautiful region.
Even if the weather outside is glistening and cold there's no shortage of fun Adirondacks winter activities. Check out these top ten upcoming winter activities that you can enjoy this winter!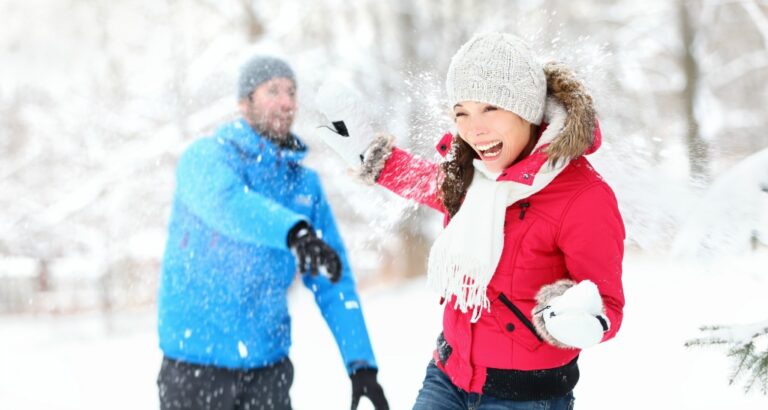 1. Lake George Polar Plunge
Are you brave enough to take the plunge? The Lake George Polar Plunge has been a tradition for many, for years. This event takes place on January 1st at the Shepherd Park Beach. At 1pm sharp, approximately 1000 participants will rush into the freezing waters of Lake George. If plunging into icy cold waters isn't your cup of tea, then drop by to watch the excitement and cheer others on –it's an event you won't want to miss.
2. Lake George Winter Carnival
The Lake George Winter Carnival is a month-long celebration of winter. The carnival is held at Shepherd Park, and takes place every weekend during the month of February. With food and fun you are bound to have a great time. Featuring everything from dog sled races to tasty samples from the cook-offs, this is one event that you'll want to plan your stay around.
3. Gore Mountain Skiing
Just a short drive north of Lake George, Gore Mountain has been a welcome site for skiers since the early 1950's. With its wide variety of amazing trails: 109 Alpine and 10 Nordic and Snowshoe trails to be precise, Gore Mountain is a favorite for many. We are also offer a Ski Free special when you book 2 nights!
4. A Snowmobile Tour
Are you an adventure-seeking couple? Then why not check out our very own Friends Lake Inn snowmobile tour for two? With a one-night stay in a romantic guest room as well as a one-hour snowmobile excursion, this is one special you won't want to pass up. This package is only available for a limited time –so book early to prevent disappointment.
5. A Romantic Sleigh Ride
A sleigh ride with all the bells and whistles? It doesn't get much better than that! At Friends Lake Inn, we're offering a one-night, romantic getaway that includes a romantic sleigh ride across the snow. You will end the day with a candlelight dinner and be sent off after a full country breakfast for two in the morning.
6. Snowshoe Tours Natural Stone Bridge and Caves Park
Available from mid-December, snowshoe tours of the Natural Stone Bridge and Caves Park are a fun winter experience. Tours are available with views of the cave entrance, glacial erratic bounders, ledges, and waterfalls. Come join in the fun! Tours are weather dependent.
7. Adirondack Museum
The Adirondack museum puts on some festivities of their own. The SnoCade Skywatch is a favorite of many and takes place February 16, 2016 where stargazer and amateur astronomer, Jamie Thomas –will give a presentation on the winter sky and constellations. Refreshments will be available in the museum's visitor center. Come for a star-mazing time!
8. Romance Package
At Friends Lake Inn, we also offer a romantic package for two. This includes a two-night stay in a romantic guest room with Jacuzzi. Enjoy three course-candlelit dinners for two in the evenings and a full country breakfast in the morning –and so much more. Remember to book early!
9. Lake Placid World Cup Bob Sledding
Looking for a little outdoor excitement? Then check out the World Cup Bob Sledding Race that will be taking place January 4th-10th. An action packed week that won't let you down, this race is the opening race of the season that will take athletes through seven different countries. This is one race you won't want to miss!
10. Cooking With the Chef
After all that fun outdoors, why not warm up inside with a little bit of fun at Friends Lake Inn? Enjoy a 90-minute session with our Executive Chef, prepare your own lunch, and enjoy a glass of wine. A relaxing and delicious way to kick off your winter getaway.
As you can see there are plenty of fun and exciting events happening this winter in the Adirondacks, in the Lake George region. Why not spend your winter getaway with us this year? We're certain that you won't be disappointed!
For more information on packages and getaways in Lake George visit Friends Lake Inn today.